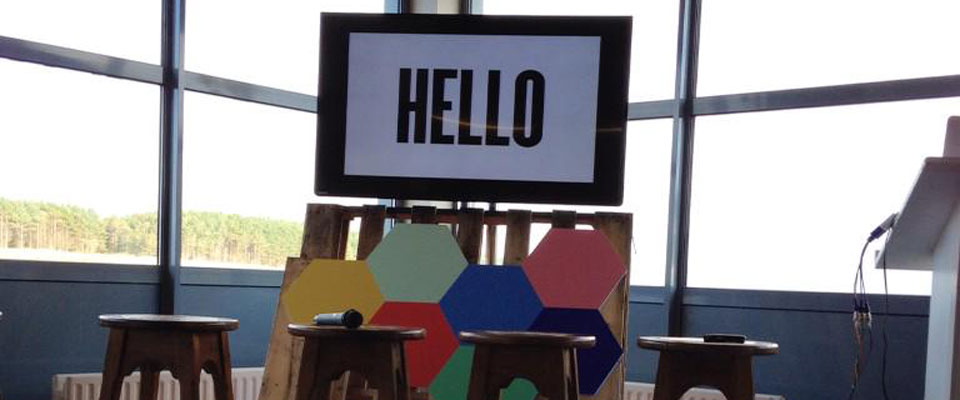 How to articulate the feeling of positivity from yesterday? We might just have to do a little dance.
Sligo's chest has definitely puffed out a little from our conference in an airport beside the sea. Hopefully this is just the beginning and anybody who was there will get to say "I was at the first Swell Summit".
There were too many people to thank without an announcement that would have kept us in the airport until the wee hours so hopefully this virtual one will do it justice.
We are extremely grateful to Sligo LEADER Partnership for funding Swell Sligo. Shona Heffernan has been the co-collaborator on this project from the get-go. With a spark in her eye, the answer is always yes. To Chris, Shona, Deirdre, Martina and the whole LEADER team a huge thank-you.
Sligo Airport was the jewel in crown yesterday; everybody attending revelled in the novelty of the unique venue and its stunning backdrop. A huge thanks to Joe Corcoran and the Sligo Airport team. It was a joy to work with you.
Converting a working airport into a functioning conference venue is no easy task. Turning a creative vision for how we wanted it to look into the reality of what was seen yesterday was delivered by Vincent Sweeney. A consummate professional who wanted nothing more than to see this done well in Sligo, we are eternally grateful to Vincent for making this happen for us.
To the Swell team Deirdre Melvin, Aoife Flynn, Dave Porter & Allan Mulrooney who helped all to brainstorm ideas, brief speakers and manage the stages on the day, thank-you. What a joy to work with people who just get it. Thank you all for volunteering your time, ideas, creativity and passion to making this the event it deserved to be.
Leanne McCaffrey, an IT Sligo marketing student, was our event manager and my go-to get it done person for the last two weeks. A solution finder who has a great career ahead of her. We were lucky to have her.
Lots of friends helped in different ways yesterday: Luke Saunders & Eddie Johnston were the muscle on the doors yesterday. No better men to welcome our guests.
To everybody who spoke yesterday; we had over 40 speakers on stage including our 5*5s and lunchtime workshops. I know what effort and time it takes to plan and deliver presentations.  Some of our speakers travelled from around the country and the UK. We didn't pay any speaker fees so we are extremely grateful to all speakers for coming to Swell; we hope you got as much from it as we did.
Shells Cafe crew: we love you. Jane, Myles and team have been staunch Swell supporters on so many levels creatively, professionally and personally since inception. Thanks for keeping us fed and watered in such a tasty way.
We were super lucky to work with a number of designers for Swell. So many people still comment on the Swell branding and we will always be grateful to Gary Reddin for it. David O'Mahony designed our digital brochure and presentations. Nick Devaney in Ballast Signs did all our signage and print materials for the Summit. The lovely Laura O'Keefe illustrated our blackboards. Thank-you all!
Rachel Coyne has been keeping our social media channels buzzing for the last few weeks. We like your style Rachel, thank-you.
To Mark Willis and Simon Hunt from Blue Stack Records / Vinyl Culture for soothing our souls with the most delicious of musical accompaniment yesterday, thank-you.
Cheers to everybody who contributed to the goodie bags; Annie West, Good4U, Berenice Beukes, Martin Gallagher Furniture, Noelle Healy from Twoodlepip and everybody who dropped off flyers.
Thank you Fastcom for the WiFi. It worked!
To Nichola MacEvilly who was our awesome air hostess in the morning.
Thanks to Philip & Karyn at AVA for making sure all our AV worked.
The White Hag Beer tastings went down too well at 5pm; thanks to James Ward and all at this great new local craft brewery.
David O'Hara thanks for taking our guests to see the glories of Sligo via SUP today.
Thanks to  in the Suites for looking after our guests so well.
So you can see, it takes a village to raise a summit. Sligo's community works together really well.
Now all that's left is to decide what next!